Welcome to RAINBOWLAND

Home!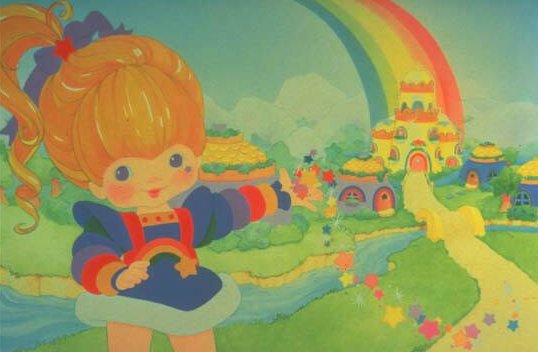 (The Rainbow Connection)
Hello there! And welcome to Rainbowland! I don't get many visitors from Earth, so each one is very special to me! Have you ever been to Rainbowland before? Well if not, let me tell you a few things about it! My best friends here are the Color Kids and our assistants the Sprites! We have a lot fun here, but we are always on the lookout for those two villians Murky Dismal and his sidekick Lurky. So hang on tight to Starlite's mane...here we go!

| | |
| --- | --- |
| | Since you've never been to Rainbow Land before, let me show you around. If you'll look through here, you can see my home, the Color Castle. This is the place where the Color Kids and I all live. The Color Kids are my best friends. They are the 7 children that help me spread color all over the world! Each one of them represents their own color. There's one for every color of the rainbow! There's Red Butler, Lala Orange, Canary Yellow, Patty O'Green, Buddy Blue, Indigo, and Shy Violet. |

The Color Kids and I don't do all the work by ourselves though. We have helpers called Sprites. They are furry little creatures that mine Color Crystals in the Color Caves. They have their own language that only I and the Color Kids can understand and they live in their own little Sprite Houses. They always have a cheery disposition and their excitement for life rubs off on everyone that comes near them. The head Sprite is my personal friend Twink,the only white sprite. He keeps everyone in order. And he is always the first to allert me if Murky and Lurky are headed my way in their awful Grunge Buggy. He's saved me from their evil tricks many many times.
Now, if you have a good imagination, you can imagine what my voice sounds like, but if you've never heard me before, that would be a hard thing to do. So I've made it a little easier for you. Here I have me and some other characters from Rainbowland speaking. Just click on the links to download and then hear them!

The Color Kids and I LOVE to laugh. It really is the best medicine! One thing that makes us laugh is telling jokes. There are many colorful jokes to laugh at. Want to hear some? Ok...

Q. What would you have if everyone in America had a pink car?
   A.A Pink Carnation!

Q.What would happen if you threw a green rock into the Red Sea?
   A.It would sink!


The Color Kids and I have other hobbies as well. One of our favorites is to sing. We know lots of songs. Would you like to hear a few and learn the lyrics as well? Just click on the song title to see the lyrics, and click on Download beside each song to download a part of it to hear!

Now that you know more about Rainbowland, I hope you'll come visit me more often. It's visitors like you that make my job worthwhile. Please, don't be a stranger! I'd love to have you come visit me again. Who knows what new things the Color Kids and I will come up with? And always remember glum face...next time you see a rainbow, look up! You'll feel better and you might see me too!
Paint a rainbow inside of you, Paint a rainbow, let your smile shine through...When it's cold and gray, push the clouds away...Paint a rainbow in your heart!

---
This page hosted by
Get your own Free Home Page