News Item #1 (10/14/14): #BriteIsBack!! A preview of the upcoming Rainbow Brite reboot has been released by Feeln, and oh my bows is she adorable!! News sources revealed that Molly Ringwald will be joining Emily Osment in the voice cast, three episodes will play on Feeln starting November 6th, and Rainbow will be joined by her friends, the Color Kids! The new Rainbow has social media accounts on Facebook, Twitter and Tumblr, so be sure to follow them for the latest news. And Renee and I recorded a "first reactions" episode of BriteCast regarding the big reveal. Stay tuned! :)
News Item #2 (9/25/14): RainbowBrite.net, in conjunction with Teepublic.com, is hosting a contest. Are you an artist who loves Rainbow Brite? If so, this is the contest for you!
For the next two weeks, we want you to submit your Rainbow Brite designs to be printed on t-shirts at Teepublic.com, using the tag #rainbowbriteforevercontest. The winner will receive a Rainbow Brite t-shirt of their choice from Teepublic, free of charge! Click here for more details, and good luck! :)
News Item #3 (7/15/14): A new Rainbow Brite cartoon is in the works! Actress, Emily Osment, posted an image of an episode script to Instagram, stating that she was excited to be doing some animation work this summer, and signed off as Rainbow Brite herself :D
Those are all the details we know so far. But that didn't keep Renee and I from squeeing and speculating ourselves silly on the latest episode of BriteCast :) Give it a listen and let us know what your thoughts on the new show are.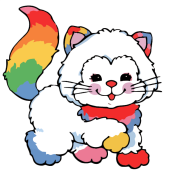 News Item #4 (6/20/14): GameStop has an adorable Rainbow Brite backpack available through their rewards program! Earn 7200 points and it can be yours :)