News Item #1 (4/18/16): Excitement!! An online exclusive Shy Violet itty bitty is being released on June 6th!! She's sure to sell out fast, so mark your calenders now :)
News Item #2 (4/12/16): Guess who's going to be bringing color to our Christmas trees again this year? That's right! Hallmark is releasing a brand new Rainbow Brite ornament for 2016 :) She'll be available for purchase in Hallmark stores and online beginning in July: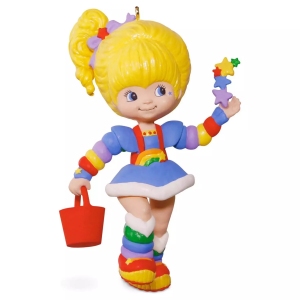 News Item #3 (1/28/16): Hallmark has three new Rainbow Brite items in stock! A Patty O'Green, Buddy Blue, Champ, Lucky itty bitty 4-pack, and two new books! Check them out in your local Hallmark store, or purchase them online here. BriteCast episode 19 is also available for download!
News Item #4 (1/25/16): TopShop is selling another pair of Rainbow Brite boy shorts! Get your own pair here :)
News Item #5 (12/22/15): The Jumbo Rainbow Brite itty bitty has begun showing up in Hallmark stores, along with Rainbow Brite and Twink Clippys! Below, you will find my review video of these products, and a video tour of my Rainbow Land Museum! :)