News Item #1 (11/20/14): Feeln's new Rainbow Brite series' season finale hit today, and OH MY BOWS did it drop a sparkly, colorful, explosive bombshell!! Rainbow Brite fans - this is a must see!! Your jaw will hit the floor and your heart will hit the heavens :) Do you trust me? Check it out for yourself! And if you haven't already, check out episodes 1 & 2 as well :)
News Item #2 (11/6/14): The new Rainbow Brite series from Feeln has officially launched! Episode 1: Cloudy with a Chance of Gloom, premiered today at 7am PST. Click here to sign up for a Feeln account in order to watch it on the device(s) of your choice. Your first week's trial is free! You can read the credits list here :) Be sure to tune in next week for episode #2!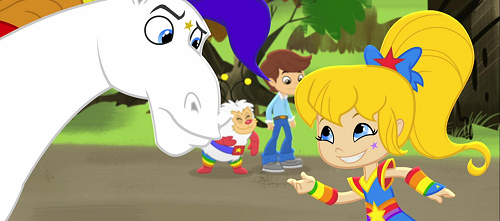 News Item #3 (11/4/14): On the newest episode of BriteCast, we were given the exciting opportunity to interview the executive producers of the new Rainbow Brite series from Feeln! Give it a listen to hear the answers to many behind-the-scenes questions, and get some exclusive tips about this new show :) Also check out our previous episode, where we interviewed Patty and Michael Silversher - two composer/song-writers who worked on the original Rainbow Brite albums!
News Item #4 (10/14/14): #BriteIsBack!! A preview of the upcoming Rainbow Brite reboot has been released by Feeln, and oh my bows is she adorable!! News sources revealed that Molly Ringwald will be joining Emily Osment in the voice cast, three episodes will play on Feeln starting November 6th, and Rainbow will be joined by her friends, the Color Kids! The new Rainbow has social media accounts on Facebook, Twitter and Tumblr, so be sure to follow them for the latest news. And Renee and I recorded a "first reactions" episode of BriteCast regarding the big reveal. Stay tuned! :)