10-30-12
More Rainbow Brite t-shirts have recently been released! A cropped shirt from Forever21 and an adorable tee from Urban Outfitters:
10-8-12
Hot Topic has two new awesome Rainbow Brite shirts available on their website! Rainbow Brite jackets have also been spotted in various stores. Click the images below to check 'em out! :)
9-20-12
Halloween will be here before you know it! Do you have a Rainbow Brite costume to wear this year? If not, take a look at this one :)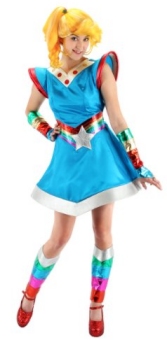 7-24-12
Four new adorable t-shirts! Two for adults and two for children :) Click on the image to view/buy the shirt. First, the adult shirts from 80sTees.com:
And next, the kids shirts from Wal-Mart.com:
7-10-12
Spencers has a new Rainbow Brite backpack for sale! It's super colorful, with the Rainbow Brite logo, and includes a Twink hood! Click here to check it out :)
5-23-12
Wal-Mart has an adorable toddlers t-shirt for sale! They've released it in a few stores, but is mostly available online. Shipping is only 97 cents :)
3-14-12
Spencer's Gifts is coming through for us again! They're carrying these new Rainbow Brite wallets for $17.99. How cute! You can order one online, or click to find a store near you.
3-6-12
K-Mart is keeping the rainbow alive for 2012 by selling this adorable kids t-shirt! You can find it online and in stores.
12-11-11
Japanese company, Strapya-World, has two licensed 2012 Rainbow Brite schedule books for sale on their website! The text inside the books is in English and they're happy to ship to other countries :)
11-2-11
Spencer's
is now carrying a mini Twink backpack, a Rainbow Brite sinch backpack and a new set of Rainbow Brite pint glasses!
9-15-11
We love Spencer's! Now they've given us a Starlite Pillow Doll, Rainbow Brite slippers, a Rainbow Brite car air freshener and a mini Rainbow Brite Backpack! The slippers and backpack are available on their website
. To get Starlite and the air freshener, check with a store near you.
3-30-11
Spencer's has come through again! They've released a new 50" by 60" Fleece Throw and a Patty O'Green pint glass! I can't wait to see what they come out with next :) Click here to find a store near you.
3-9-11
Rue 21 stores have begun carrying new Rainbow Brite t-shirts! Click here to find a store near you :)
3-3-11
Robot Chicken has struck again! This time, they introduce Rainbow Brite's dull-witted "sister," Rainbow Dim ;) Click the image below to watch the video. RB's sketch starts at 5:09.
3-2-11
I've started a new Rainbow Brite blog - Brite Wish! It will serve as a place to share information that doesn't easily fit onto RainbowBrite.net or is too long for a quick news update such as this. I hope you'll subscribe and enjoy it :)
2-7-11
Madame Alexander is giving us another Rainbow Brite doll!! This time, we get Tickled Pink :) She's available for pre-order now and should be released in August of this year! I think we should start emailing them now to ask for Stormy next year ;)
1-10-11
Spencer's has begun carrying these adorable new Rainbow Brite wristbands in their stores and online! Click here to get one of your own.
1-3-11
Netflix has added Rainbow Brite and the Star Stealer to their available movies. You can rent it on DVD or watch it immediately through Netflix Streaming!
12-03-10
Spencer's Gifts has added two more Rainbow Brite items to their inventory! A wall clock and a set of four 16oz drinking glasses! Click the images below to purchase them from Spencer's online store.
10-08-10
Spencer's Gifts is now selling Rainbow Brite snuggies!!
9-27-10
Another Rainbow Brite prototype doll has been discovered! Please click the image below to view more pictures of this extremely rare doll:
If you've never seen a Rainbow Brite prototype before, check out Galacticatt's amazing collection on her website.
9-13-10
TV Store Online has marked down their Rainbow Brite t-shirts to only $2.95 each! Plus, use code "tvstore10" to get an additional 10% off your purchase! Shipping is free for orders over $50, otherwise it's only $5.95. It's definitely time to stock up!
9-13-10
New Sprite dolls have been released in Mexico! It appears these are a result of a collaboration between Playmates Toys and Mattel Mexico. Hopefully this partnership will yield even more Rainbow Brite products in the future.
8-17-10
Amazon is carrying new Rainbow Brite pajamas and a new Rainbow Brite coloring pad and marker set!
Also, if you haven't yet picked up the Rainbow Brite dollar items at Target, now is the time to do so as they've been marked down by 50-75%!
7-23-10
You can now purchase licensed items featuring classic and new images of Rainbow Brite at Zazzle.com!
7-21-10
When Playmates Toys was asked for news about the new Rainbow Brite dolls, the following response was received: "I am sorry no new Rainbow Brite products will be produced, the line will not be going forward." And they've removed Rainbow from their website. Very sad indeed :( If you still want the toys, buy them while you can, as they will soon disappear forever.
7-11-10
Target has released all of the promised Rainbow Brite items in their dollar section. Click here to see images of all 24 items. Not all stores have put out the merchandise yet, so if you haven't come across them, keep checking.
6-29-10
Target dollar items are slated to appear in stores starting July 11th, but some items have already started showing up! So far, we have seen magnets and velvet art kits:
So keep your eyes peeled - they may show up early in your area as well!
6-3-10
According to United Media, Target will soon be carrying classic Rainbow Brite items, such as stationary and socks, in their dollar section (See Spot Save)!
5-26-10
And now American RB fans can rejoice as well! A second Rainbow Brite bike has been released and is being sold on Amazon.com. It comes in 12", 14" and 16" sizes to cover kids from age 3 all the way through age 8!
4-23-10
Canadian RB fans are in luck - Toys R Us Canada is carrying a new Rainbow Brite bicycle! Unfortunately, it does not appear that they will ship outside Canada. So we will have to hope that this item shows up in other stores eventually. Check it out here.
2-23-10
Toys R Us is now carrying all of the new Rainbow Brite dolls (including the horses) both in stores and on their website!
1-23-10
The new Rainbow Brite horses have been spotted at Meijer stores! If you live in or near Kentucky, Ohio, Indiana, Illinois or Michigan, click here to find your nearest store. Happy hunting!
1-15-10
Toys R Us is selling two new collectible Madame Alexander Rainbow Brite dolls! There is an 8" plastic doll that comes with Twink sprite and an 18" cloth doll:
1-10-10
Hallmark has released four new animation segments on RainbowBrite.com. We get to see what appears to be the new Color Castle, a new way to gather Color Crystals and the three girls' wands in action. Check them out!
12-26-09
Some of the new Rainbow Brite dolls have been released in Target stores, nationwide! So far the 15" Rainbow Brite, 10" Rainbow Brite, 10" Moonglow and 10" Tickled Pink have been spotted, but supply is low. Hopefully more dolls and higher quantities will show up soon. Will keep you updated! Click here to see pictures of the new dolls and a comparison with one of the old dolls.
11-23-09
United Media Licensing has put out a new press release regarding the upcoming line of new Rainbow Brite dolls. An iconic 15" doll is planned and they are scheduled to be released spring 2010! Click here to read the full article.
11-15-09
Lego master, Dave Sterling, wins the MOCOlympics with our friends from Rainbow Land!
10-12-09
Playmates Toys has released images of the soon-to-be-released Rainbow Brite fashion dolls!
10-4-09
There has been a slight delay with the new line of Rainbow Brite dolls. Originally it was thought they would be in stores by this fall or the Christmas holiday season at the latest. But they now will not go on sale until January of next year. I'll be sure to let you know when they start showing up in Target and Toys 'R Us stores. Can't wait!
8-10-09
Long time Rainbow Brite fan, Kenyth Mogan, has written an article about the new Rainbow Brite line, scheduled to hit stores later this year. In his article, Hallmark answers questions about the characters and updated storyline. We find out that Tickled Pink is in charge of sunrises and sunsets and that Wisp (Rainbow Brite) was originally a human from Earth! You can read his full article here.
Thanks Kenyth!
7-26-09
Rainbow Brite was spotted at the San Diego Comic Con!
Thanks for representing, ladies :) And big thanks to Rob for the photos!
6-14-09
We now have pictures of the redesign of Tickled Pink, Moonglow, Sunriser, Twinkle, Twilite and Nite! You can read United Media's latest press release here, plus their licensing newsletters here and here.
6-13-09
RainbowBrite.net is now on Twitter and Facebook! Become a follower/fan to receive the latest updates on Rainbow Brite and this website.
4-15-09
New information has been released about the new Rainbow Brite dolls that are set to hit store shelves this fall!!
1) - Twink's new name will be Twinkle.
2) - Nite Sprite's name has been shortened to simply Nite.
3) - Sunriser will be Tickled Pink's horse.
4) - Tickled Pink will have a Sprite named Twilite. Twilite will be pink.
5) - Shimmer will belong to Moonglow and she and Nite will be shades of purple.
6) - Starlite will still be a male character. Sunriser and Shimmer are females.
7) - The horses will be the same scale as the dolls, so the dolls will be able to ride the horses.
8) - The sprites are plush and will giggle when squeezed.
More details will be posted as they become available.
3-24-09
Rainbow Brite was spotted in the hit tv series, Bones, in the episode "The Princess and the Pear."
1-6-09
The new Rainbow Brite dolls are in the works!!! Playmates Toys has been granted the master toy license for Rainbow Brite, that licensing agent United Media is working to revive.
For Fall 2009, they will be debuting three dolls and three horses:
Rainbow Brite
Moonglow
Tickled Pink
Starlite
Sunriser
Shimmer
1-5-09
Hallmark has released images of Rainbow Brite's new look!
12-16-08
"In an agreement with Hallmark Cards, Inc., United Media will serve as the exclusive merchandise licensing agent for Rainbow Brite. Empowering a new generation of girls to spread hope and happiness, a new innovative program launch is underway featuring Rainbow andh er best friends Ticled Pink and Moonglow. Rainbow Brite marks the third addition to the United Media and Hallmark licensing relationship, which also includes the popular hoops&yoyo and Maxine brands. For more information, click here."
10-11-08
All 13 Rainbow Brite episodes have been released on DVD in German! Visit Amazon.de to order your copy today! The DVDs also contain the English soundtracks to the episodes - so you can watch them in either language.
10-10-08
New Rainbow Brite dolls are in the works!!! Playmates Toys has been granted the master toy license for Rainbow Brite, that licensing agent United Media is working to revive. Click here for the full details!
10-9-08
Bettina, the voice of Rainbow Brite, had her hit single, She Is, hit number 4 on the Billboard charts. Now she has released her second single, Cradle to the Grave! It can be purchased on ITunes or heard on Bettina's website. She was also interviewed on the John Kerwin show, where she talked about Rainbow Brite, voice acting, singing and more!
5-20-07
A two disc DVD set, containing 12 of the 13 Rainbow Brite episodes, has been released in Australia. Check the EzyDVD site for ordering information. Unfortunately, the news is not so good for American fans. The VHS and DVD editions of Rainbow Brite and the Star Stealer are now out of print. Hopefully this awesome movie will be resurrected one day. In the meantime, you can still find used (and possibly new) copies on Ebay and Amazon.
5-4-06
Rainbow Brite came in at #73 in the the top 100 toys of VH1's "I Love Toys" show! Rainbow beat out both My Little Pony and Care Bears!
2-10-06
Rainbow Brite has been spotted auditioning for American Idol! Check out a video of the contestant being interviewed on American Idol's website.
8-24-04
Rainbow Brite and the Star Stealer will be released on DVD November 2nd! Click here to pre-order your copy today!
8-23-04
Rainbow Brite has made her first debut in a music video! Click on What U Do 2 Me to check it out!
1-22-04
New Rainbow Brite dolls are now available at Hot Topic, Wal-Mart and Target!!! Check out the new ad site for the toys - on Nick Junior.
11-25-03
We had a wonderful chat with Bettina Bush (the voice of Rainbow Brite) last night! She is SUCH a sweetheart!! Click here to read the chat transcript.
11-17-03
Bettina Bush (the voice of Rainbow Brite) has put out a music CD! She also has a website now to keep us updated as to what she's doing. Check it out!
11-7-03
New dolls are now available at Hot Topic!!!
10-25-03

Rainbow Brite is featured on VH1's new "I love the 80's - strikes back" for the year 1986! Plus, new Rainbow Brite toys will be hitting the shelves of Hot Topic starting in November. The toys will be mass-market at Wal-Mart, Target, etc starting in January, so keep your eyes peeled! Also, Rainbow Brite and the Star Stealer is going to be released on DVD in August of 2004 by Warner Brothers! YAY!! :)
6-18-03

A company called Toy Play has negotiated the toy license for Rainbow Brite! What does this mean? It means that more Rainbow Brite dolls, toys and accessories are on the way! These toys will start showing up in specialty stores by the end of this year and will be mass market in early 2004! Also, look for a TV commercial at the beginning of next year! Rainbow Brite is BACK! :)
2-1-03
The new dolls have arrived! You can buy one at your local Hot Topic or from their website :)
1-13-03
Bettina Bush (the voice of Rainbow Brite) has been located!! For years now, we have had no idea where she was or how she was doing. But I'm pleased to announce that she contacted me today and she's doing great :) Check out the Voice Actors Page to see an updated photo and read what her current projects are. Big thanks to Robbie Lee for referring Bettina to my site :)
1-9-03
In a couple of weeks, a new Rainbow Brite doll will be hitting the shelves of Hot Topic! This doll is an almost-exact replica of the original 1983 doll and is priced at a low $16.99. So be visiting your local Hot Topic or go to their website to buy one. If this doll sells well, other characters might be produced as well - such as, Stormy! To see pictures of the new doll and a comparison with an original doll, click here.